Hair Colourist Sunshine Coast
Looking for the best cuts & colours -
Visit Strut Hair & Beauty!
Haircut & Colour Specialists
Visit Strut Hair & Beauty in Maroochydore on the Sunshine Coast and experience what it's like to have a good hair day every day.
Our senior hairdressers and colour experts specialise in a premium range of conditioning hair treatments, uniquely designed to breathe new life into your tired locks.
Whether you want to create extra body with a modern precision haircut, or transform your dull hair with a new bold and beautiful colour, our creative stylists will help you achieve the look you want and deserve.
We are proud to work with hair products from Australian-leading brands to ensure you always walk away with a beautiful, radiant and easy to manage style.
Cuts & Colours on the Sunshine Coast:
Hair Colourist Maroochydore
Our friendly, skilled team at Strut Hair & Beauty believes that honesty is key to creating vibrant, amazing hair colour. We're completely honest with our clients, using our expert eye and years of experience to craft incredible hair colour that you'll love. It's all part of your journey, and we'll be with you every step of the way to plan out your next incredible colour.
Beautiful colour and healthy hair – the perfect combination
Our promise at Strut Hair & Beauty is to make you feel good and look amazing. Part of that promise is ensuring your hair looks and feels healthy and happy. We will never go overboard with colour and bleach, and instead, we focus on reaching your colour destination through healthier methods. Maintaining your hair's integrity and leaving your tresses in top condition.
There's no such thing a generic colour at Strut
Colour theory and complexion are a vital part of our colour process, and we make every effort to ensure your new hair colour suits you beautifully. A great colourist will always tailor colour to suit your skin tone, complexion and lifestyle – and that's an integral part of the service we offer. Not only do we know our stuff when it comes to colour, but we can also advise on the best tones for your skin to make you glow from the inside too.
Colour tailored perfectly to you
Our custom approach to hair colour is one of the things that sets our salon apart. Our colourist will go the extra mile to ensure your new hair colour is the perfect match for you. Whether you're considering going light, opting for something subtle, or going all-out on vibrant shades, we're here to make sure that you'll love the result. Colour is one of the things we do best.
Meet Nicole, our hair colour specialist
Nicole Sylvester is our colour specialist at Strut Hair & Beauty. With years of experience working with Goldwell Cosmetics and L'Oreal Professional in corporate positions, she brings a wealth of unique insights and knowledge to our customers. With a Technician of the Year Award with a trip to Paris under her belt, there's no-one better suited to transform your tresses.
Alongside her own personal experience, Nicole has the advantage of years of industry expertise, including watching many of Australia's leading colourists taking part in shows across Australia. If you want to put your hair colour in the safest hands, we can't think of anyone better than Nicole to start your colour transformation.
Book in with Nicole today
All our colour sessions start with a consultation with Nicole. So, why not get yourself booked in to visit the salon and get to know us a little better? Whether you've got a good idea of what you want or you're looking for an expert eye to give you're a brand-new look, Nicole can make it happen. Give us a call on (07) 5443 5605 today to get booked in or take a look at our online bookings to find a time that best suits you.
We are happy to partner with the industry's leading name Evolve to ensure you always receive beautiful end results. Our fantastic range of products are brought to us by:
Neuma, UNITE, Pravana Professional & Retail Range
Neuma, UNITE, Pravana Keratin Straightening System
George Extensions
What are you waiting for? Call our stylists to secure your next hair appointment, or click here to book through our online system!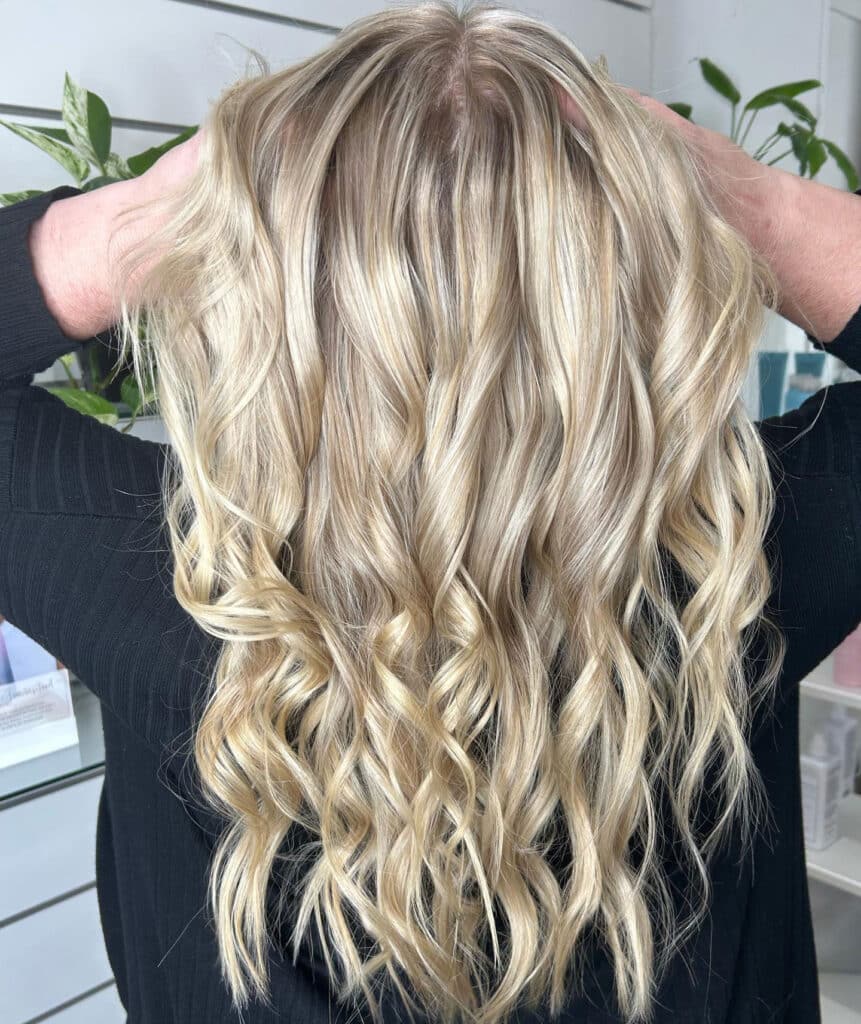 So, you've been scrolling through blonde inspo pics on Insta, and you've found it—the radiant, luscious blonde mane you need immediately. But hold on a
Read More »